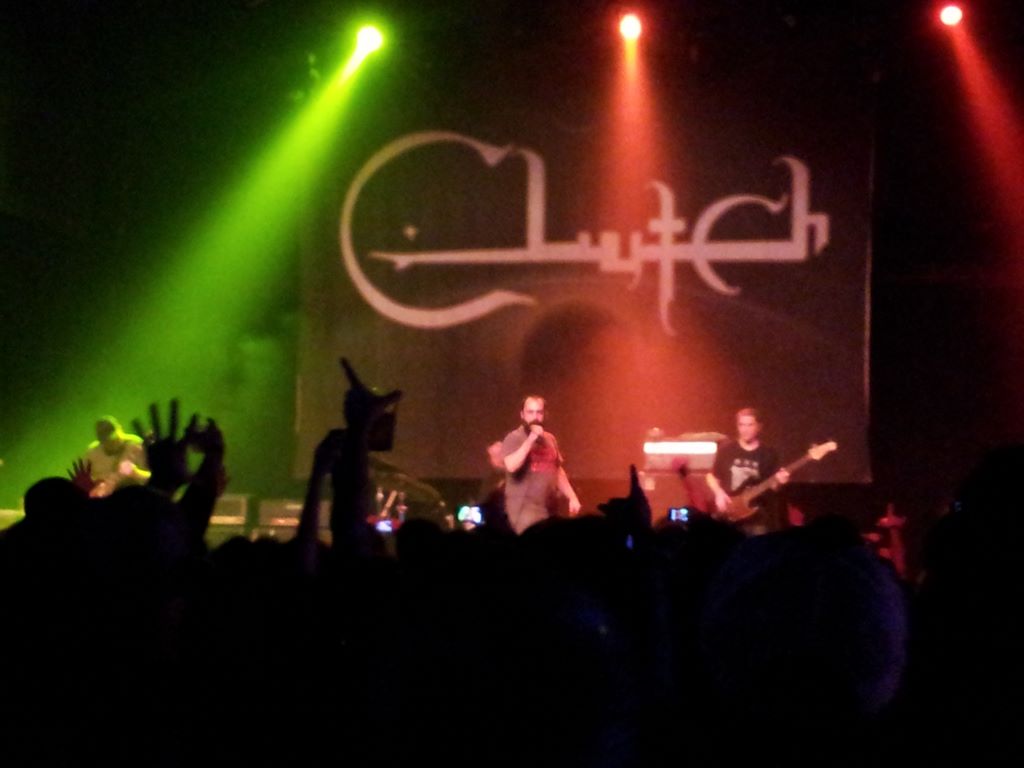 Alrighty, I can cross off one more item on the ole Music Bucket List.  Last Saturday, I had the excellent opportunity to catch up with one of the bands I discovered in college, Clutch.  It seemed like in the past, I never got a chance to sync up with their touring schedule.  Well now I don't have to worry about that anymore.  The new Emo's East provided the venue for some pure rock fury and it blew me away.  The opening acts helped build it up, but Clutch blew the joint out.
When I read about Emo's East, I was expecting it to be somewhere east of I-35 in Austin downtown.  It is east but it is south of the river on Riverside.  What does that mean?  It means that I don't have to mess with paying for parking or the general hustle and bustle of folks getting their freak on.  That said, the new Emo's East could use some breaking into.  The sound seemed just a bit off inside but I'm sure they are tweaking things along the way to get the best sound the venue can provide.  At least there's cheap beer and open space.
[youtube]http://www.youtube.com/watch?v=yC5K4YNjpbw[/youtube]
I strolled in while Lone Star Demons were sludging it out fairly deep.  I wish I had the chance to catch their whole set but hey, I'm going home for Christmas and had a bunch of crap to take care of.  Next up with Amplified Heat.  The solo shredding on the guitar was quite the spectacle and I feel like the band is the vehicle for the guy to show off his licks.  There were grooves in the midst of the riffing and I want to see how this band matures over time.  They definitely had the crowd going.
[youtube]http://www.youtube.com/watch?v=DugHCA2jz6w[/youtube]
The masters of getting the crowd going, however, are Clutch.  They did not disappoint.  There's something to say about a band that just hasn't had the mainstream success but can command the type of loyal fan base that represented Saturday night.  Everyone around new the words to their songs.  This kind of dedication I see in jam bands.  Well, that and metal bands.  Which Clutch kind of falls in between, sprinkled with some blues.  I'm mostly happy they provided me with some memorable classics like 'The Soapmakers' and the epic 'Spacegrass.'  Even their new songs had the crowd bumping.
That's about it, really.  If you get a chance to see Clutch, do it.  It's kind of like going to see the Reverend Horton Heat.  They are great at what they do, they never had sky rocket fame, but they still tour and is a good notch in the belt for some live concert goodness.  If you are ever in Austin and find yourself at Emo's East, be sure to go with the tall boy beer because the whole selection is fairly weak.  I'm not sure if it's a pride badge deal or if they are too cheap.  Just a word to the concert friendly wise.