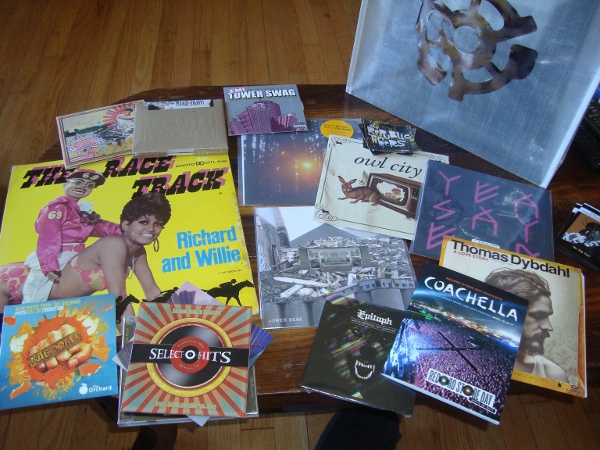 Alrighty, I'm back home after another great trip out for Record Store Day. For those not in the know, every year record stores and music companies put on the event to help promote local stores and vinyl records. I enjoy both for the exclusives and the free schwag. This year was no different for me. Here's my pull list:
EMI Urban Music Sampler
The Orchard Physical Distribution Sampler
Stockholm Belongs to Us: A Labrador Records Compilation
Epitaph Winter/Spring 2011 Sampler
Select-O-Hits Limited Edition Sampler
New West Records All-Stars & Rookies Sampler 2011
Sub Pop Terminal Sales Vol. 4
Universal Music Christian Group Sampler
Decibel Download Metal Sampler 2011
Coachella Festival Sampler 2011
Thomas Dybdahl/Laura Jansen 45 Single
Lower Dens 45 Single
Owl City 45 Single
Yeasayer 45 Single
Richard and Willie – The Race Track
What was different for me was the new Vinyl Renaissance that opened up at 39th West. The former Boomerangs is now home to the growing local Kansas City franchise. The one off of Shawnee Mission Parkway was decent but some of the dudes that worked there were fairly anal retentive and jerky. That was different however at the 39 West grand opening. I didn't get to stay long enough for the band that was setting up to play but I did enjoy the bounty of schwag the store was handing out.
I can't wait to dig through all of this new music and find some gems. I already listened to Richard and Willie because I absolutely love underground urban comedy from the 1960s and 1970s. The other items are not too shabby either, as the samplers have mainstream cred attached to them. So another year in and another year out doing some early morning crate digging and schwag grabbing. Happy Record Store Day!