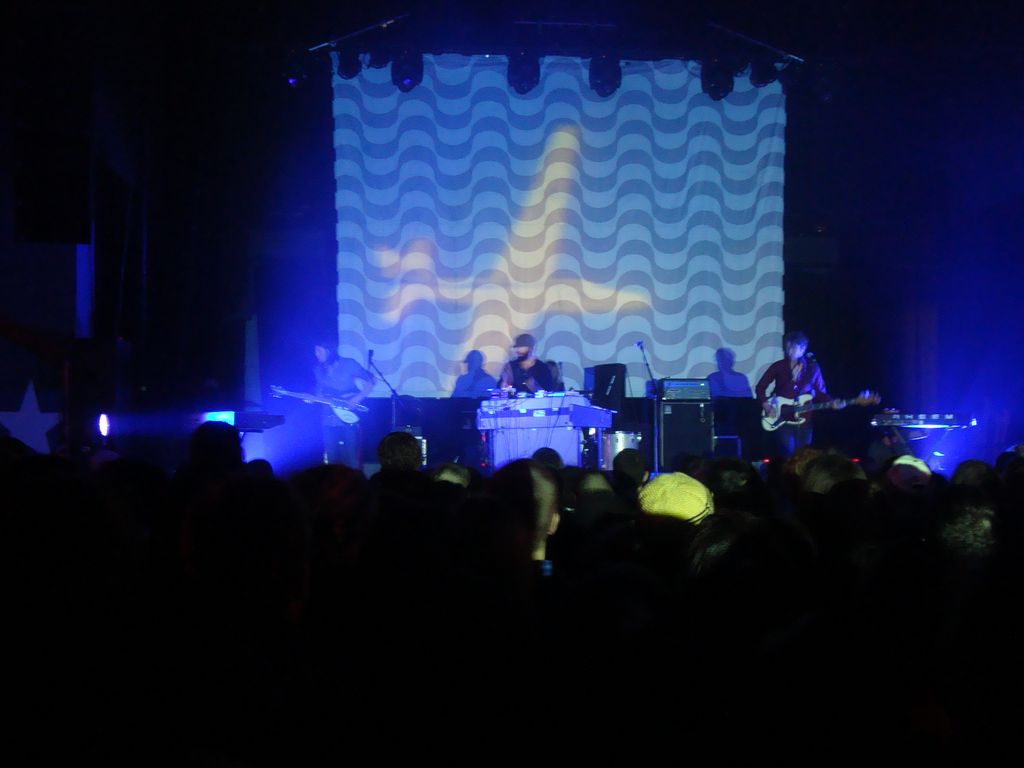 So the New Year is here and it's the first one in a long time that I didn't wake up with a massive hangover.  As a matter of the only damage I received may have been a bit of the hearing lose.  It's all thanks to the wicked concert I attended at Emo's East for New Year's Eve.  Ume, Wooden Shjips, and The Black Angels put on a show to end all shows for 2011.  Well, it wasn't the best concert I've been too but it was the last one for 2011.  Still, I had a fantastic time and hope every show I go to is at least as good as this one was.
I still can't seem to remember when Emo's East was built, but I know it's kind of new.  The sound is the same there but it felt like it was a little better than the Clutch show.  Whatever radio promotion was there handed out balloons, party favors, and streamers for the party.  The beer was still kind of weak but that seems to be a badge of pride for the type of bar more than anything else.
[youtube]http://www.youtube.com/watch?v=-bkzMtfxZmk[/youtube]
Ume kicked of the night and got the crowd promptly warmed up.  I saw her before at Dia Des Los Toadies (like The Black Angels).  Their set was sharp and I had no complaints.  I was closer to the stage so I got a shot to see how tiny the lead singer really is.  She's like the hard rocking version of Zola Jesus.  This power trio should be around for a long, long time.
[youtube]http://www.youtube.com/watch?v=Vpo9sAgCk74[/youtube]
Next up was Wooden Shjips.  I heard of these guys when they were compared to Tame Impala.  So naturally, I would be hooked.  After they played, I was hooked but not as hard.  They fuzz rock and driving guitar sounds filled my head with enough trippy noise to be happy.  I didn't realize that the lead singer was pretty old but it didn't hold me back too much.  The keyboard player had this silver wrap around his stand, which made the sounds he was making seem more special.  When the Wooden Shjips set was done, they took off the lining to reveal a small keyboard and two pedals.  Kind of a let down, but I still enjoyed them.
[youtube]http://www.youtube.com/watch?v=qYw56PS1NNE[/youtube]
Lastly, it was The Black Angels.  Their Dia De Los Toadies gig set me as a fan for life.  With a headlining show, I had the opportunity to see so much more of them.  They played their hits like "Entrance Song', but also jammed out to some lesser known tunes.  Aside from a jumbled New Year's countdown, the set was great and I might have to see them every time they are in Austin.  Seriously, they are that good.
So yeah, the balloons dropped and the party ended at Emo's East.  Since I was being a good sober boy, I didn't get a chance to go at it fully.  As a matter of fact, I was kind of tired at the end of the show.  Maybe it's because I'm turning into an old fart.  Who knows.  What I do know is that I got a great big helping of psychedelic music to close out 2011.  Nothing fit better for dreaming and fantasizing of great, epic things than the sets that Ume, Wooden Shjips, and The Black Angels delivered.