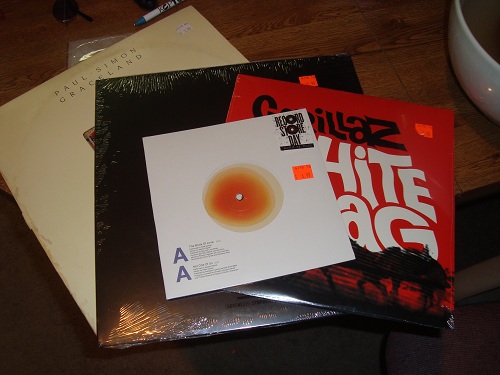 Hey everyone, I just wanted to wish everyone out there a happy Record Store Day!  Every April, the vinyl record store owners across the world band together and celebrate the regal round objects that are vinyl records.  Today found me crate digging at Vinyl Renaissance and Zebedee's RPM.  The pull was decent and so was the schwag.
The schwag consisted of some sampler cds, postcards, buttons, and stickers.  Very nice indeed!  Although the 429 Records All-Stars claims to be the best in alternative yet they sport Cracker and Everclear on the compilation.  What's up with that?  My guess that's why it was free.  Anywho, here's my pull:
Peter Gabriel/Stephin Merritt : A single where they cover a song of each others
Gorillaz – White Flag:
Muse – Exogenises Symphony (Parts: 1-3) : After their show at Stubb's I will get anything new by these guys
Paul Simon – Graceland: I think I already have this, but I had to get another copy.  One of the greatest openings ever on an album lives on this bad boy.  I'll even go as far as to say it's one of the best albums of the 1980s.
It's not too late.  Hop online and buy some 45s from the online stores.  If you're lucky enough to have a record player, plop down your favorite LP and just sit back.