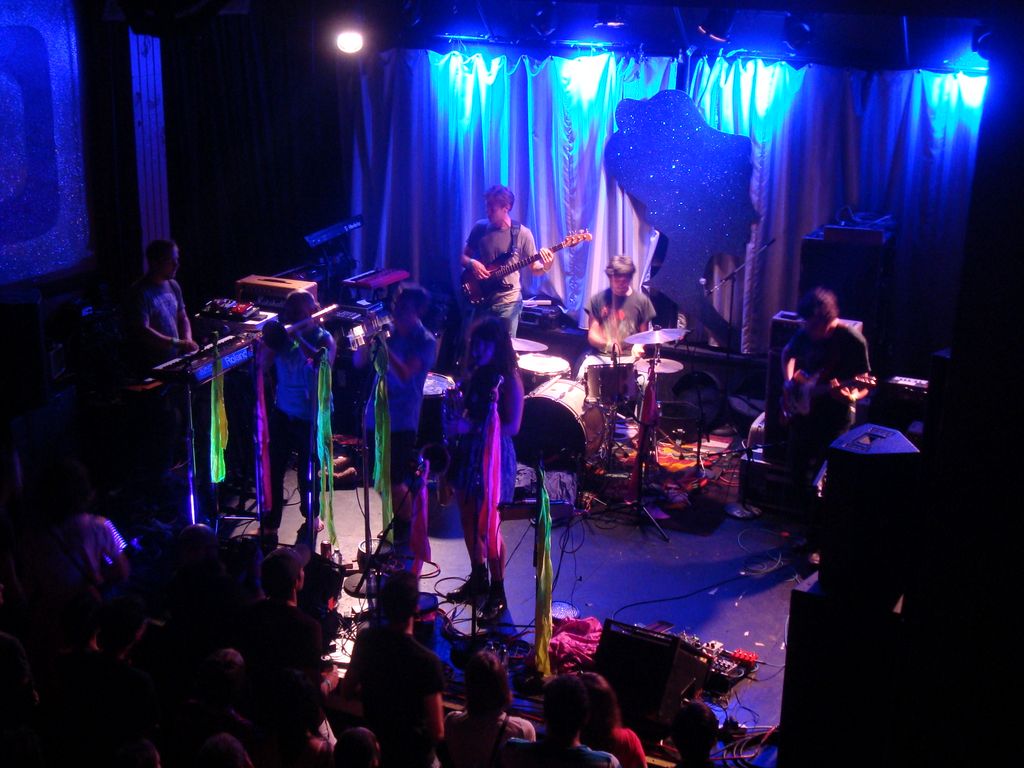 So it was an Emo's type special last Wednesday night again but this time it was at little sister Beauty Ballroom.  I was there to check out some Rubblebucket but also got a double dose of On An On and Reptar.  It was my first venture into Beauty Ballroom and my first taste for two of the three bands out there.  What a better way to close out the month of concerts as well as continue in on the fall concert series?
So Beauty Ballroom is right up the road from Emo's out on Riverside Drive in Austin, Texas.  It has a different taste to Emo's and they share at least one thing with the brother bar.  They only have can beer and no taps.  I think again it may be because it's a cheaper licensing situation.  Who knows?  What I do know is that it's a smaller place with a great upstairs.  I hung out upstairs to get a better view of the show.  In between sets it was free pool and a choice view of Brewskee-ball.
[youtube]http://www.youtube.com/watch?v=vh5DaofQcxE[/youtube]
First up was On An On, a local Austin band.  They claimed that they played SXSW a couple of times and it kind of showed during the set.  They had all the right ingredients that make a decent opening act for a showcase.  We had some synthy pop sounds, a driving bass, and just enough quirkiness.  I got into a couple of songs but I admint was way more enamored with the Star Wars Lego on the television and the fact that the pool table had open play.
[youtube]http://www.youtube.com/watch?v=dU11T2vGlzk[/youtube]
Rubblebucket came up next, which coincidentally I saw for the first time at SXSW.  Instead of last time I got to see them open to finish.  While the first meeting was an introduction, this time around I learned so much more.  The backing band was more E Street Band than Bosstones when it came to sound.  I certainly felt way more soul than I did last time.  I think I just may have missed.  The lead singer channeled way more Bjork as well.  Lastly, what I noticed was that Rubblebucket's range was may more than party music.  They went from slow jams, to dark trips, to happy, to sad, to funk.  Pretty much everything.
[youtube]http://www.youtube.com/watch?v=1cE9j3RO9rY[/youtube]
Lastly Reptar came up and they had their full gear in full tow.  I know having a ton of pedals and keyboards and other noise makey thingies is all cool and everything, but stamp them down to a common board to make setup go a little quicker.  After the long setup, they took off and used every piece of equipment on deck.  Reptar had that poppy feel but it fleshed out to more rock band type music than Rubblebucket's jam band feel.  And for the life of me I couldn't get over the keyboard player's full on orange outfit.  It was way loud.
I didn't stay for all of Reptar's set.  Oh I dug the 12 minute jam they dropped on my face, but I turned old and lame real quick and decided that bed time was the right time for me.  In retrospect, I guess the culprit was Rubblebucket.  They juiced so much energy out of me and the crowd, it's a hard bargain to survive a set for over an hour long.  Oh yeah, blame the late times on Riverside.  Maybe if the doors were at 8 and shows at 9, I could get the most of a three band line up.  That said, Wednesday was a night to remember for both new and familiar funk music.