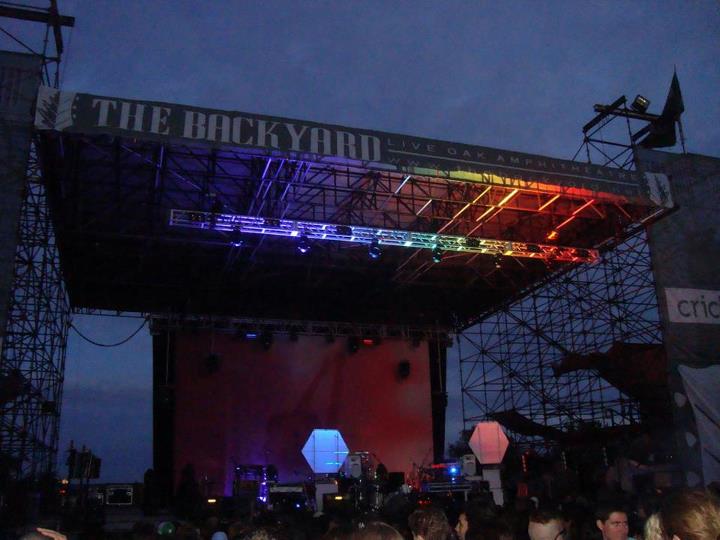 Yes after a great start to the fall concert series, we had another dandy Saturday night at The Backyard at Bee Cave.  Passion Pit came to town with Pacific Air in tow.  But as an added treat we got to see local noise band The Octopus Project play us a set.  And as an even better treat, traffic was actually manageable to and from the show.  I know, shocker, right?
So let's get the venue out of the way.  I got an email blast stating that we had to get there about 1 1/2 hours before the show to handle the traffic.  Well, we did and we sailed on into the parking lot.  We packed ahead for the show and downed some tasty homemade pizza and some cold beer.  I wish that the traffic wasn't that bad so I didn't have to miss anything else with my time,  but I'm glad there was no parking jam collision for us.
[youtube]http://www.youtube.com/watch?v=JUh1uFP53XA[/youtube]
Pacific Air kicked of the night and they held the torch high for opening band status.  Some of the songs were neat-o and some of the I couldn't remember.  I tried finding their songs on Spotify, el al but only one song was listed.  Yes, it's the band you have a hard time finding information about online in 2012.  In all seriousness, they need a little more presence online to match their presence on stage.  They were tight and the songs didn't totally suck, I just wish there was more information.
[youtube]http://www.youtube.com/watch?v=m0NNC590HnQ[/youtube]
The Octopus Project was next and it was quite the surprise.  I didn't do any research about the band before the show, and I'm glad I didn't.  I found out that they are local to Austin and that they line up greatly to my tastes in music, especially in instrumental noise fun.  What's better is that they actually have a presence online and about 10 years worth of music history to enjoy.   Surprise of the night for me and I can't wait to see them play again.
[youtube]http://www.youtube.com/watch?v=1dJlcZ5PD3g[/youtube]
I remember first really finding out about Passion PIt when playing a gifted computer game that sets stages up to the tempo of the music.  I played a whole album of Passion Pit's and it's stuck ever since.  The show itself was kind of like a video game.  Very clicky and bleepy with enough beats and some pretty lights.  The lead singer can actually hit the high notes and it made me smile to see the crowd bounce around in sync to some of the bigger songs.
Good times all around last Saturday.  Passion Pit is a great band that I think everyone can enjoy.  Pacific Air is way too new for me to judge.  The Octopus Project was a big surprise and I'll have fun exploring them more.  The exit out of The Backyard at Bee Cave was amazingly quick and we were home with great memories to recall.  Perhaps I should put them online?