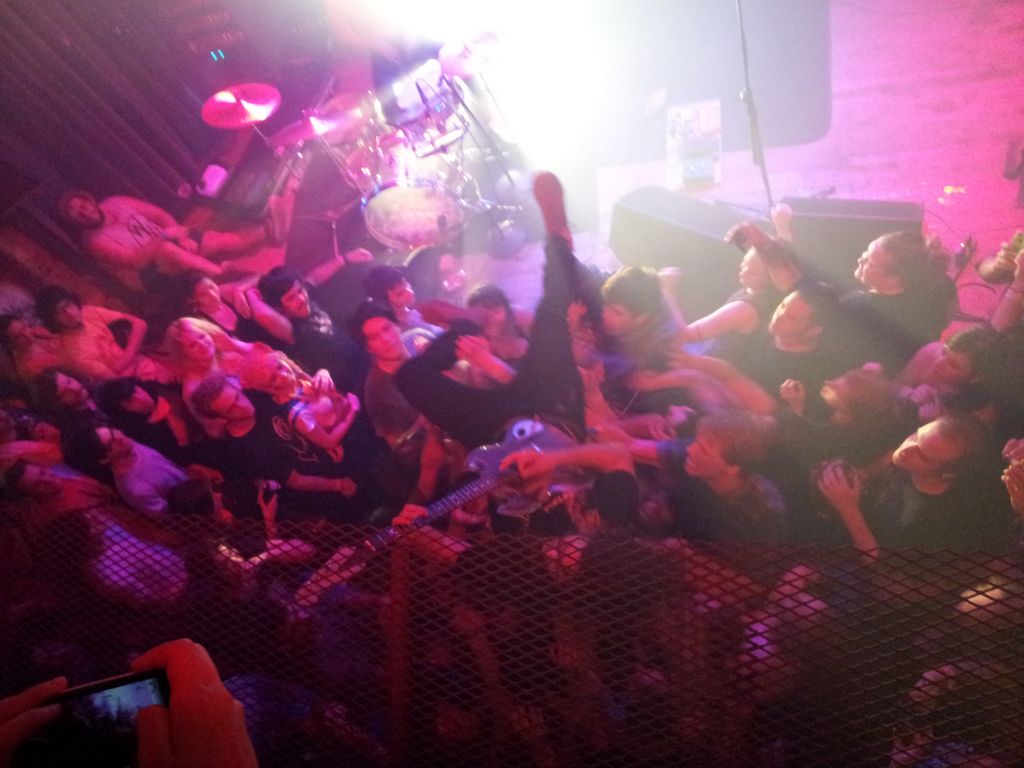 Hey I'm back again and I scored myself a pretty sweet deal seeing Jeff The Brotherhood Monday night.  They headlined a small tour and it showed right up at Stubb's  Now, I was entertaining guests at the time so I didn't get a chance to catch the first band, but I did get to see the 2nd biller along with these tiny little headliners.  There was plenty of entertainment for both the tunes and the crowd.
Okay a word to the wise.  If you happen to be in Austin and you happen to be at Stubb's and you happen to see a show inside, just stay upstairs.  You'll get a great view of the band and you won't have to bust a sweat just standing there.  We caught the first dudes downstairs and had to run back a couple of times for water.  Upstairs was nice and air conditioned.  Yeah I know, but on the plus side the full bar was right behind us and not crowded.
[youtube]https://www.youtube.com/watch?v=jYaEfieiElI[/youtube]
Let's get to the music.  First up was Diarrhea Planet.  Now the peeps I were with weren't too impressed and I have to say that I only got into a couple of tunes.  We collectively couldn't get passed the fact that they have four guitar players in the band.  It seems a little egregious.  But hey, the drummer reminded of Animal from The Muppet Show.  It would be worth it to check out the guys vamping on stage but I wouldn't blow your load over it.
[youtube]https://www.youtube.com/watch?v=mIgvrMbWBH4[/youtube]
Jeff The Brotherhood took the stage after we took the upstairs.  It was fairly obvious we were about the get our faces rocked because there were two lamp lights and a god damn smoke machine.  Yup, it's another garage rock duo and they delivered.  From the first note they just belched out some hard grunge and acted like they really didn't give a fuck about whether or not you liked it.   And we all ate it up.
[youtube]https://www.youtube.com/watch?v=DNub7dDKwfY[/youtube]
That was part of the fun of the night.   The crowd was completely into it.  It's been awhile since I've seen some major stage diving an Monday night caught me up.  I even got to see a lady dressed up as a Sailor Moon girl jump off the stage.  Also, I think there was some dude with epilepsy up front because he was tossing his crutches on the stage.
Great times all around.  Very perfect of Jeff The Brotherhood to close out with and epic jam called "The Tropics".  Even a couple of guys from Diarrhea Planet popped on to the stage to help finish out the night.  So yeah, it was a fantastic end to an otherwise slow starting night.  Check out Jeff The Brotherhood the next time they are in your neck of the woods.