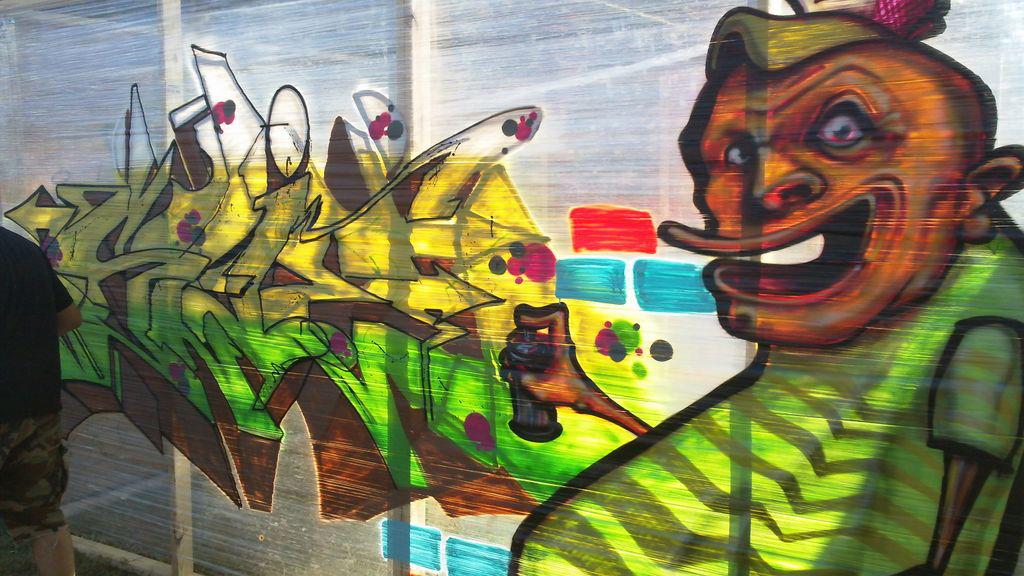 Okay it's been over a month since Fun Fun Fun Fest and now I'm finally getting down to writing about it.  For the uninitiated, Fun Fun Fun Fest is a music festival in Austin, Texas that takes place in the fall.  Amongst the bajillion music festivals in the Austin area, this one seems to be the most alternative and wacky.  That's two things that are near and ear to my heart.  Last year I went with a day pass, but this year I plunked down some change for the 3 day pass.  I'm glad I did.
Since it's been awhile I'm going to pick out some highlights from the days.  Yeah, there's tons of video online but I think the highlights are enough.  The 3 day event featured music from the alternative, hip hop, techno, and metal areas of music. Plus, I got to sample some other mainstream type things like half pipes and professional wrestling.  Let me hit that up first.
I'm not a big skater or biker so the half pipe didn't appeal to me too much.  I did enjoy the other peeps bouncing up and down the ramp during the shows, however.  The wrestling was more my kind of style.  Anarchy Championship Wrestling is a local independent type promotion and they had a ring setup right next to the ramp.  It's all in good fun and was way more than I expected with a wrestling drinking game match.
[youtube]http://www.youtube.com/watch?v=i9ifRQb7AJY[/youtube]
Now on to the music.  First day's highlights include The Dum Dum Girls, Tia Carrera, and speical performance by The Black Lips with Val Kilmer.  Yeah, that Val Kilmer.  I'm conflicted about who was the biggest highlight of the day:  Santigold or Run DMC.  When I think about it, I think Santigold will get the nod.  Run DMC almost did a medley of songs and finished fairly early.  Plus they were really pimping Jam Master Jay's kids and their DJ careers.
[youtube]http://www.youtube.com/watch?v=LcUTsxOwYB4[/youtube]
Yeah it goes to Santigold.  The songs were deeper and they stage show actually impressed me.  It takes alot for me to praise a stage performance but Santigold had a good showing without over powering the music.  Speaking of the music, the live band made swallowing some of the beats more palatable.
[youtube]http://www.youtube.com/watch?v=tLrsLVMKYT8[/youtube]
Day two saw some other great tunes.  The highlights for me include Real Estate, Love Inks, Daughn Gibson, and Power Trip.  Refused's reunion closed out the night and blew me away.  I didn't know that Swedish people could do heavy metal so well.  The unfortunate part about was the Black Stage was way at the end and we had to walk that way to get to the bus.  So we lapped the venue just to get home after that.
[youtube]http://www.youtube.com/watch?v=XW1r06mvHUs[/youtube]
The big highlight of day two was Public Image Limited.  John Lydon's post Sex Pistols band was a little more 80's and a little more mainstream.  He kept the crazy eyed look though.   That said, he didn't keep up his waistline.  Man that guy was huge.  But the songs were very melodic and had me humming them well after the festival.  Also, the guitar player was amazing.
[youtube]http://www.youtube.com/watch?v=IfpVpXTIBcg[/youtube]
The last day marked a fat middle with some less then enthusiatic book ends.  The highlights for me include Black Moth Super Rainbow and Balmorhea.  A Place to Bury Strangers blew me away with their explosive set.  De La Soul talked WAY too much during their set and I'm sad I sat through it.  But it allowed me to see AraabMUZIK up close and for the third time.  This time I saw a whole set.  Bosnian Rainbows suprised me as it really was a reschedule of Omar Rodriguez Lopez's new group.  Yeah he has a new one and it was great, even though lead singer lady Teri Gender Bender bent weird on stage.
[youtube]http://www.youtube.com/watch?v=zdPyJcPYDtQ[/youtube]
The last day's highlight for me is a little known band by the name of Valient Thorr.  Basically it's a bunch of bearded dudes doing to some good ole fashioned rock and roll.  Their syncopation reminds of some 70's jams from bands like Ram Jam.  The lead singer, Valient Thorr himself, is what really had me rocking.  They guy had the crowd in the palm of his hands.  He was bouncing all over and even climbing the rafters way up high to rock out.  It was nearly impossible for anyone in the dirt not to follow.
And that's Fun Fun Fun Fest.  It was less grimy than last year, but we had enough most pits to kick up some dust.  The food and beer situation was weak and they need to get better at it.  The eclectic selection, however, needs to stay put as it was the perfect of unknown and classic music makers from a wide swatch of the musical spectrum.  Seriously, if you get a chance, get the tickets and head on out.  You may even get hit by the taco cannon.