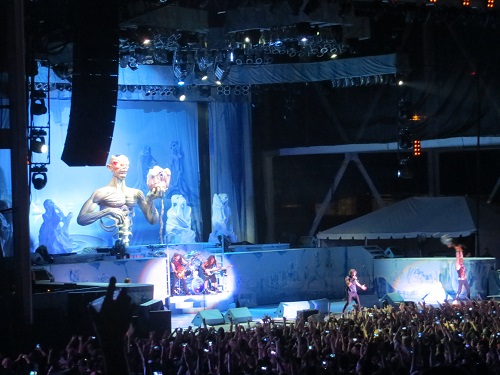 Last Tuesday was a dream come true for me as I finally got to see Megadeth.  Oh I saw Iron Maiden too.  Plus I got to see the Austin 360 Amphitheater over at the Circuit of the Americas.  All in all the show melted my face right off, but there are a few points I need to make.  Especially about the venue.
So first off, I have to say that living in South Austin made it easy for me to get to the Circuit of the Americas.  All I had to do was hang a left on William Cannon Drive and practically head east the whole way.  That made for some serious back roading and heavy traffic avoidance.  Now once I got close the traffic filled up but it wasn't as bad as I've seen in other places.  Also, getting out was super easy.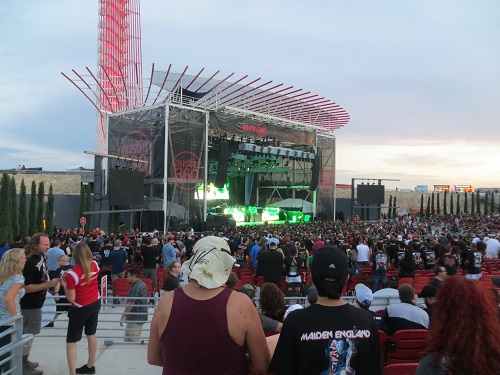 So now begins my problems.  The Circuit of the Americas is a ginourmous race track.  So parking kind of works around the track.  When I got there, I just wanted to park so I went into the first gate.  Little did I know that it would cost 20 bucks to park, but it also meant I had to walk about a mile to get to the gate.  They have trollies but they were not running too fast.  So yeah parking is kinda weak.
Because they funneled everyone inside to one gate, I hate to wait forever just to get pat down.  In fact, I missed the beginning of Megadeth's set because of that.  I will say that they are alot cooler on the camera side of things.  They need to open more gates around the park or get those trollies going faster.
So once I got inside, I decided to try out the food fares.  Yeah, don't do it.  Or at least stick to the food trucks.  Yeah the racing grill there gave me a mediocre chicken sandwich for like 10 bucks.  The craft beer tent was another 10 bucks for one beer.  I went there with 40 bucks looking to get a decent meal and a couple of drinks but left hungry and thirsty.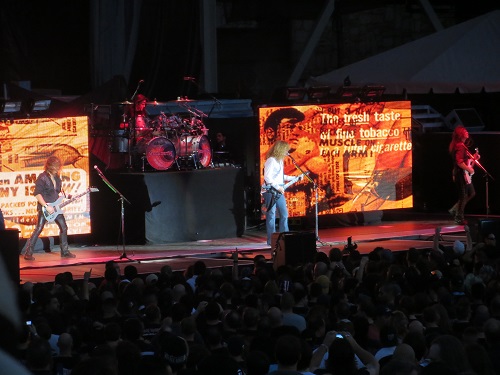 That didn't take away from the show, however.  While I missed the start of Megadeth, I got to get a great view of the rest of their set.  Dave Mustaine brought out the classics but also rang out a few from their new album Super Collider.  I wished that they went longer than the 45 minute set.  Still, the classics rocked and my face started getting hot.
[youtube]http://www.youtube.com/playlist?list=PLOfwpn-Uqkegd0a06X8zTHHVOaRwXo9-X[/youtube]
Iron Maiden was up next and whatever theatrics were missing from the Megadeth was totally made up in theirs.  Ed, the iconic mascot for Iron Maiden, made his presence known throughout.  Whether it was some curtain design, inflatable giant puppets, or some dude and a 10 ft tall costume, we always got to see a bit of Ed on each song.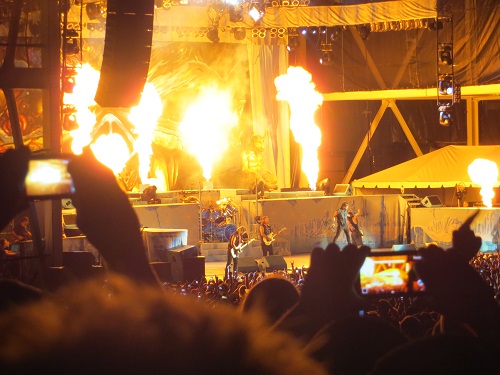 Props to Bruce Dickinson too.  The lead singer for Iron Maiden had the voice down pat for the whole 2 hour set.  He was bouncing all around the stage and really put his heart into it.  I dug the rock start lean he was sporting too on some songs.  If there was only one word to describe his performance, it would be "EPIC".
And really that was the whole show.  Epic.   Megadeth got my face warm and Iron Maiden totally melted my face off.  You know you are at a great show when you uncontrollably nod your head, some may even bang, and not even know it.  I left the Austin 360 Amphitheater with my head banging that's for sure.  I also left with a sore wallet.  But hey, it's a small concession to make for such an epic night