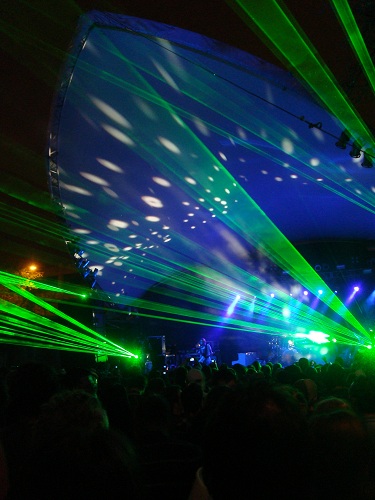 I'm sitting here in the Clarion Inn at about 3:30 in the morning Saturday and I'm wondering if it can get any better than this.  No, I'm not talking about Old Milwaukee, I'm talking about this Music conference and the events leading up me typing this in my underwear.  Sure, my feet are super sore, they have been after every night, but each day passes and my mind continualy is blown up by what we're doing down here.  Today's music consisted of a smorgusboard of variety and some pay off from very well known to virtually unknown artists.  Let's take a look:
First up was the Fangs and they bite pretty well in the Euro synth punk genre.  The lead singer lady is all sultry and punky while the rest of the band rocks it out eurocore.  Oh it's catch and popppy, but has a slight edge.
After a couple of detours, I actaully ran into And So I Watch You From Afar playing again.  Me and my lovely girlfriend stayed and watched these guys play again. Go see them if they are in your town.
We heard rumor during the week that a major band would be playing at SXSW this week and we got in line at Stubb's to check them out.  First of was Metric and what I thought was a Swedish smart rock band ended up being a New York rock and roll with synth Blondie send up.  The lead singer lady again had some great energy on the stage.
Next up was Muse.  They were the big rumor and Spin brought these guys here for a great show.  I've yet to see them live and now I will if they ever come around Kansas City.  Everyone knows who Muse is, or at least should, but what hit the home run for me was the Ennio Morricone cover of the them to Once Upon A Time in The West that they started out with in the encore and ran into Knights of Cydona.  Truly a site to see.
We piled out of there and ran back to the Mohawk to see some tunes.  We watched the Cool Kids rap and it was a great palette cleanser.  Good ole fashioned hip hop with some spliff references.
Next up at Mohawk was Miike Snow.  Again I thought this was Swedish smart techno but again I was proved wrong when the went alot harder than I expected.  This guys had the crowd at their fingertips by the time we left for our last show.
The last stop of the night pinned the tail on our ecclectic donkey of music.  Dengue Fever is a world music band featuring a Cambodian singer and hails for LA.  If you enjoy some rousing world music, check these guys out.  They had us bouncing around the room.  You know at first I thought the singer was a Bollywood type diva but I guess Cambodian divas sound alot like those.  Good fun at the end.