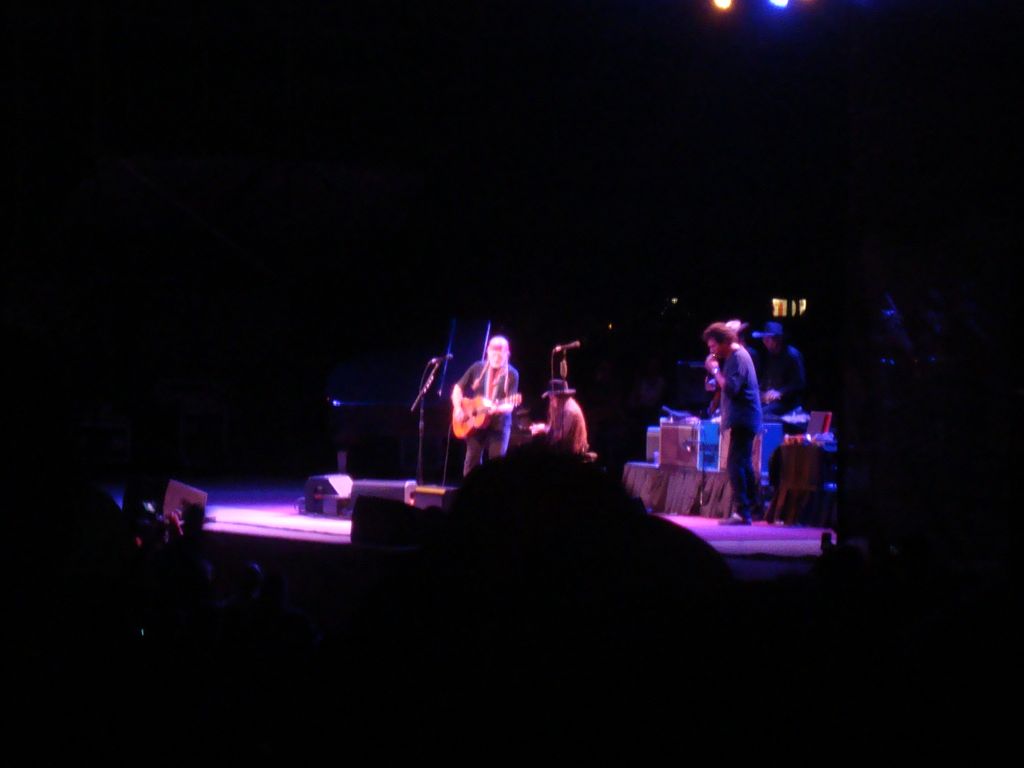 So Saturday was quite the day to keep the Summer Concert Series rolling. Willie Nelson showed up to the Backyard at Bee Cave, which was a first for me on both counts. The twist this time, was that we went with a big group of people who've seen the legend before. Good things and bad things came from it, but Willie's silky smooth voice and kick ass country playing made it a night to remember.
We had the opportunity this time around to meet up with some peeps for the show. Usually it's just me and my lovely lady. The differences are right there. We usually try to get close and focus solely on the music. In the group, it was drunken loudness and socializing. While typically I like to get in and check out every opening band before the headliner, we hung out in the parking lot while Willie's daughter played. I think the socializing (and drinking) is great but when it's a legend like Willie, I was slightly disappointed I didn't get to see him on every song.
At first we though we would be late. The traffic going to The Backyard was horrendous. I guess the history around the place was that it was even harder to get there before their big move to a field. That field was pretty sweet because it was like a park that you can lay down blankets and chairs to watch. The problem was that they didn't cut down any trees. The view was hard if you didn't get VIP until our buddy found a way to get close via the side stage/restroom area. Needless to say, if you're going to The Backyard, get there at least a 1/2 hour before the doors open.
We didn't lose out that much though. Willie's daughter played and she was mediocre at best. She did a weird version of Dick Dale's 'Misrilou' and a completely slow and terrible version of Credence Clearwater Revival's 'Have You Ever Seen The Rain.' We were happy hanging out in the lot with some Hamm's and Shiner Bock instead. Some of us even preferred it.
[youtube]http://www.youtube.com/watch?v=lvUdAyWb1KM[/youtube]
So we went inside after she finished and got to watch a legend play. At first when they brought him out on stage, I thought he was really hurting. Turns out he just kinda stood there for the whole show. They guy is 79. I think he opted to pour whatever energy he had into playing the guitar versus singing. The strumming was amazing while he would point to the crowd to finish a good 10% of lines in each of his song. That's fine, in fact it was awesome.
The friends we were with have seen Willie a great number of times. So they were busy getting tanked and being rowdy. That's something I can appreciate and did enjoy, but once Willie was there, it ended up being a little annoying. So we found out way to the side of the stage. It turned out to be a good call because we were able to get some great pictures and video while he played "Whiskey River" and "On the Road Again" and the like.
[youtube]http://www.youtube.com/watch?v=1MndCYXaLmU[/youtube]
So it was good times all around. I witnessed Willie and became more entrenched into a different style of country music that isn't as popular as the stuff you get from Nashville. I mean local people hate Nashville and promote Texas country alot more. I know what you're saying: "Duh!" But I've been closed minded toward country and after Saturday night, I'm a little more open minded. Plus, Willie Nelson transcends country. He is a true legend.