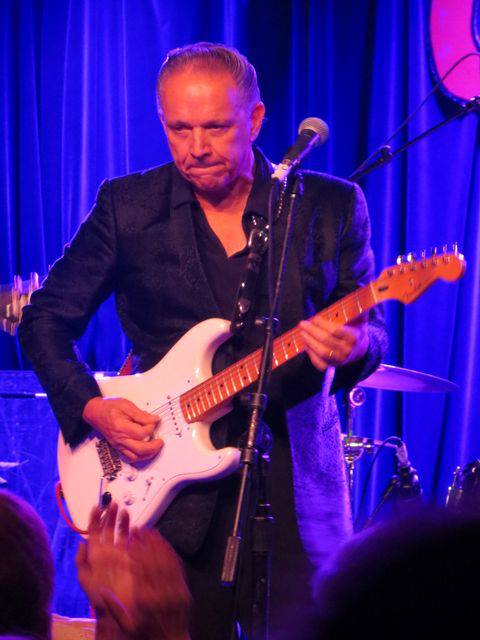 July 5 is an interesting day for me.  It's after America's birthday and right before mine.  So while I recover from celebrating 'Merica, I also get ramped up to celebrate mine.  What better way to do this in 2013 than to watch some classic Rock and Blues via the deft hand of Jimmie Vaughan?  Yes, it was a party.  And I got to see the new Antone's.
The NEW Antone's is actually what Beauty Ballroom used to be.  It's a big exodus out of downtown with the exorbitant rent prices and another one joins the fray.  Take my word for it, the Riverside district will be hopping here in another year or so.  So with the new Antone's, it's bigger with two floors to watch the action.  And the pulled pork sandwiches are delicious.
On to the show.  The Horton Brothers kicked things off and it was rockabilly all the way.  I can't think of any better way to start out a show than the high strung plucking of some rock and swing music.  The Horton Brothers came through.  In what ended up being a theme of the night, I still have some of their tunes stuck in my head.  Heave Ho especially.
Next up was the Mike Flanigin B3 Trio.  The emphasis there is the B3.  As in Hammond B3.  Mike Flanigin had one and it was on prominent display.  If you have ever heard one of those things, it's a treat.  The Hammond B3 fits perfectly in a laid back, almost jazzy, blues style.  The trio proved that correct last Friday.
[youtube]https://www.youtube.com/playlist?list=PLOfwpn-UqkehG_z592mVvVqewBSYSKymn[/youtube]
Finally, it was time for Jimmie Vaughan.  Or actually, Jimmie Vaughan & the Tilt-a-Whirl Band featuring Lou Ann Barton.  Yeah that's a big name.  But it was a big sound.  Swingy, bluesy, and rockabilly all the way.  Lou Ann popped on for some callback songs and other ditties.  I got to see Jimmie emulate his late brother, Stevie Ray, by playing the guitar behind his head.  It was a real treat.  Much more so than the pulled pork bbq sandwich I had earlier.
I give my thumbs up to Antone's for being very fan friendly and having some real noshable eats for between sets.  The opening acts billowed up the sound and made way for the spectacle that was Jimmie Vaughan.  He's a classic that projects the classic blues sound and is a must see if you are either in central Texas or anywhere he ends up being on tour.