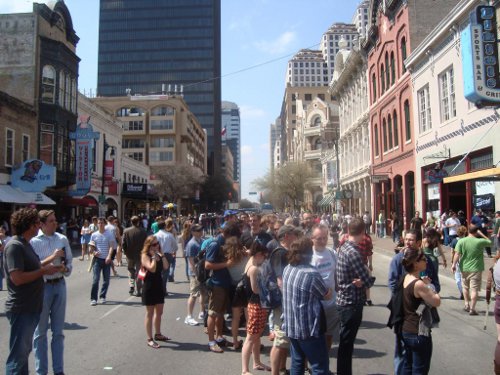 So Day 02 of my SXSW Music experience was an around the world roller coaster, so to say.  The first night rocked my socks of and I was ready to get my velcro shoes back on the dirt to check out what the day had for me.  It was also St. Patrick's Day so I decked out in my luck green shirt, my lucky green beads, and my lucky green tie.  I could've used a little more luck as my night ended on such a terrible brown note.  But, minor explosions aside, I had a great time.  Let's run down the list:
Pollack is the name of the first band I saw and I can't recall anything that stuck out in my head about this band.  Maybe when I go over the videos I gathered, I can remember but right now nothing seems to pop.
Next up was Marianne Dissard.   She was part of the French Rocks party tent and she had her French hanging all the way out.  The sultry lady sung in deep French language and had a morose, romantic tone about her.  Whatever it was she was singing about it sounded like it was sad love.
Emmylou Harris took the Radio Day Stage and I had a chance to hear two songs from her touring set.  She's a country legend and the way she picked on the guitar left no question as to why.  The sound was apt for the afternoon Austin sun.
I doubled back to the French Rocks tent and checked out Revolver.  They were the best of the three acts I saw at the French Rocks tent as I seem to remember they were a little more rock and hardcore than the rest of my listened to set.
After that it was back to Latitude 30 for some more British Embassy music.  Matrimony and was playing and I want to say that his looks were way better than his sound.  The dread locks hanging over the eyes blocked the Boy George eyes he was hiding.  The music was more like piano with just a small hint of accompaniment.  Nothing really special here.
The Lost Brothers took the stage next and pepped up the crowd a bit.  I like this band but I wasn't sure if it was because of the previous dude or just their good natured playing.
Flatstock, the poster convention, takes place at the same time as SXSW to help attract musicians to concert artists.  This year they put on acts in front of the place to help attract others there.  I dropped by there to check out the Sea of Bees.  My Indie quota should be filled by this group.  The harmony of the lead singer lady and her violin player shone through best for me.
The shuttle saved some foot time for the Auditorium Shores to check out The Strokes.  They were top on my list to see this year and the ginormous venue didn't shake any of the excitement off for me.  They all played a very tight set and convinced me double wise to check out their new album.
This is where things turn weird.  I had a couple of tacos from Damn Good Tacos and after walking back to the hotel and heading out, I realized that they were doing a damn good number on my intestines.  Montezuma's revenge hit and hit hard.  But not after I checked out Unicorn Kid at the Phoenix.  The small Scottish boy plays what I call video game techno music.  I could see myself saving a princess in some red and pink level while listening to Unicorn Kid's crunchy music.  Or maybe I was hallucinating.
That was it for the night for me.  I ducked into a karaoke bar of all places to clean myself out before deciding that I needed to head to the hotel and call it a night.  I missed a couple of more acts but more importantly I didn't die.  That said, the line up for Day 02 was respectable and I'm glad I got to rock out to The Strokes.