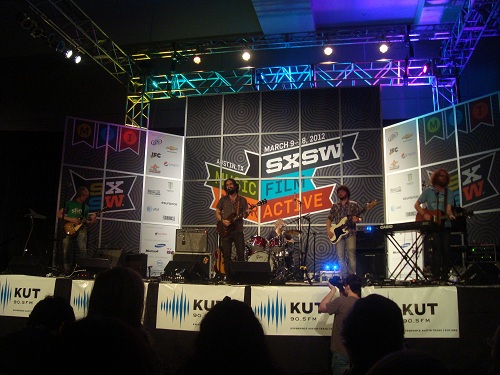 So this year for SXSW, I decided not to break down my days there into individual posts.  Instead I will _try_ to knock out each artist I witnessed and talk about my blurry experience and/or review them righcheer.  Otherwise, I'll just pump more music up on here.  First, of course, let me list all of the bands I saw so you can keep track right at home.
Day 01:
Oberhofer @ The Nokia Lab
Kasabian @ Stubb's
M. Ward @ Stubb's
Miike Snow @ Stubb's
Day 02:
White Arrows @ The Fader Fort
Michael Kiwanuka @ The Radio Day Stage
Alabam Shakes @ The Radio Day Stage
Rich Aucion @ The Canadian Blast BBQ
Kid 6 @ The Blind Pig
Atlas Moth @ The Dirty Dog Bar
Workout @ The Stage on 6th
Paper Tiger @ The Scoot Inn
Mike Ferris @ The White Horse
Jimmy Cliff @ The Main
Emily Wells @ The Jr
Thomas Dolby @ The Jr
Day 03:
Bitches @ Latitude 30
New Cassettes @ Latitude 30
The Mowgli's @ Maggie Maes Gibson Room
The Rocketboys @ Maggie Maes Roof
Spycatcher @ Maggie Maes Gibson Room
The Low Anthem @ ACL Live at the Moody Theater
Elejandro Escovedo @ ACL Live at the Moody Theater
Bruce Springsteen & The E Street Band w/ Tom Morello @ ACL Live at the Moody Theater
//Tense// @ Baraberlla
Ringo Deathsrarrrr @ The Swan Dive
Day 04:
Ariane Moffatt @ Maggie Maes
Oh Mercy @ Maggie Maes Roof
Voltaire Twins @ Maggie Maes Roof
Truly Blessed @ Rustys
Dead Sara @ Buffalo Billiards
Blitzen Trapper @ The Radio Day Stage
ANR @ Karma
Computer Magic @ Malverda
Rubblebucket @ The Beauty Bar Backyard
Minnesota @ The BeautyBar
EL-P @ 1100 Warehouse
AraabMUZIK @ 1100 Warehouse
Skrillex @ 1100 Warehouse
Day 05:
The Big Pink @ The Radio Day Stage
Anthony Da Costa @ The Soho Lounge
Ghosting Season @ Latitude 30
Polarsets @ Latitude 30
D/r/u/g/s @ Latitude 30
The Young @ Pure Volume House
Tennis @ The Hype Hotel
Standells @ Buffalo Billiards
Meiko @ St.  David's Bethel Hall
Quantic & Alice Russell @ Stage on 6th patio
Chicha Libre @ The Stage on 6th
WIM @ Maggie Maes Roof
Diplomats of Solid Sound @ Deseo Centro Lounge
The M Machine @ Republic Live
I couldn't really tell you if it's a record for me or not.  I know my feet are finally starting to feel better.  So how was SXSW?  It was better than last year.  I'm not sure it topped the first year, but it's more of the experience.  It's something you need to experience at least once.  Last year I got food poisoning and missed some bands.  This year I maintained and rocked out.  Although it was front loaded with big names opposed to other years.  Will I go back next year?  It's too early and I'm too sore to tell you that now.