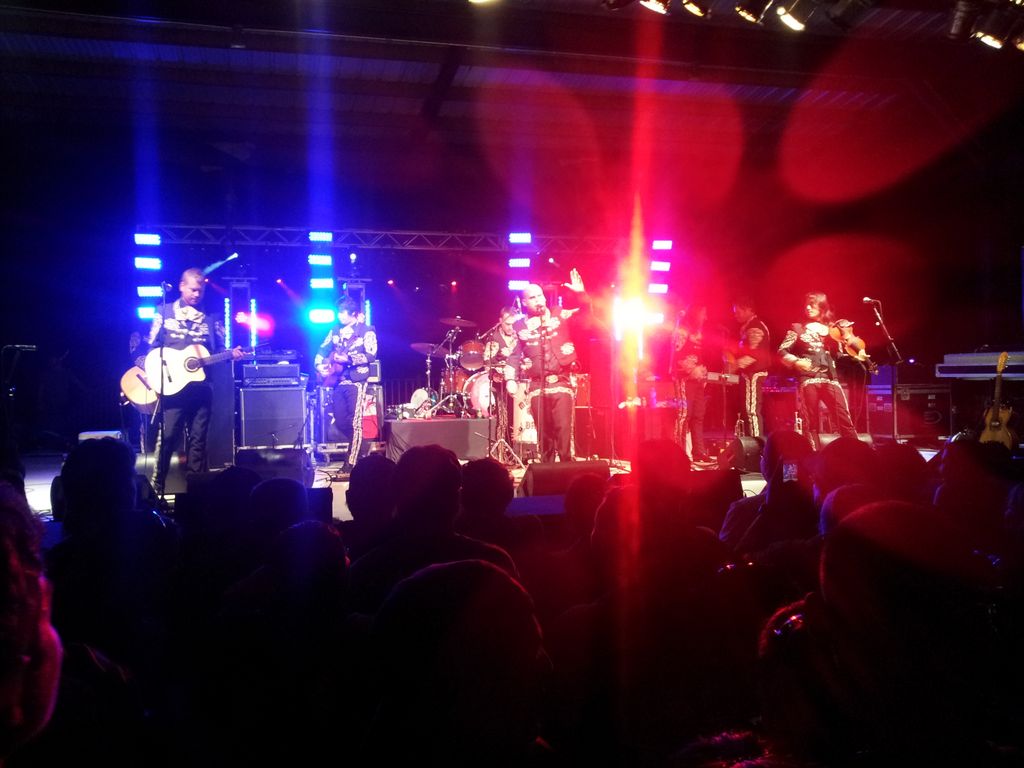 Yes, after the initiation last year, it was the second time around for me and Dia De Los Toadies.  This time around, I not only got to see Mariachi El Bronx again, but I can now knock off Helmet from my bucket list.  Another new twist this year was that I got to float the Guadalupe River beforehand and it provided a refreshing kick off to this year's festivities.  Now, because of the float, I didn't get to see every band but hey, I had tons of fun and got to see most of who I came out for.  Grab your swim trunks.
So Whitewater Amphitheater lived up to its name big time as I had the opportunity to float before the show.  If you get a chance to do some water sports before a concert, do it.  Especially if the water is cold and the sun is hot.  It cooled me off externally and gave me a chance to warm up before the show.  The only thing that was kind of a bummer was the loud boom box pirate ship on the water pumping out Aqua's "Barbie Girl."  I could've lived without that.  But hey, it was show time.
[youtube]http://www.youtube.com/watch?v=9tHFNcCjKqU[/youtube]
Because of getting cleaned up a bit, I really don't remember much of the first band or two.   O Conqueror kicked things off and then some country band followed up.   Didn't really hear them.  Next up was Cartright and they were fine.  I liked the gravely voiced singer but it seemed to be a bit much here and there.  I did get the blues feel out of it though.   Much like alot of the bands on the lineup, they were from Austin and I may check them out the next time they play around here.
[youtube]http://www.youtube.com/watch?v=dL-fImPkSWw[/youtube]
I headed back to the car after that and missed Sixteen Deluxe so I don't remember anything from that.  I went back in and saw The Phuss.  They rocked out pretty well.  Keeping with the bluesy feel, the pumped out the jams in an hard rock kind of way.  This lead singer bleated out the lyrics.  He almost reminded of WWE wrestler Chris Jericho.   I didn't get a good look so who knows, it might've been him.  Not bad for a Saturday afternoon rock set.
[youtube]http://www.youtube.com/watch?v=0KUUMkDR0V0[/youtube]
One of the bigger bands on this line up was the Riverboat Gamblers.  I have to commend the Toadies for keeping the same theme throughout the show.  The changes were subtle though.  For these guys, you take out the blues and inject some punk.  It was even more present when their lead singer jump on some speakers and started jacking with the promo banners.  Unfortunately, nobody really want to crowd surf because of the sun and heat.  Hey, it was a long show and you had conserve energy.
[youtube]http://www.youtube.com/watch?v=qCKaA50Om1k[/youtube]
A real surprise for me, and a pretty good diversion, was The Soldier Thread.  We now have the synth void filled up for Dia De Los Toadies.  Not only that but the female lead singer gap filled up nicely too.  If I was interested in Cartright, then I would be doubly interested to see this Austin based band again.  The vocals wailed just enough over the electric hum of the space filled keyboards.  If you get a chance to see these guys, do it.
[youtube]http://www.youtube.com/watch?v=759MZBwBAHw[/youtube]
The last three big bands are coming but I want to double whammy the Beirgarten ones.  I don't remember much from Brutal Juice as they just seemed to crank out the metal and squeeze it for all its worth.  Now Diesel & Dixie had way more appeal to me.  Maybe it was the bear on stage or the  biker trucker feel, but these guys had a southern hard rock sound down pat.  I can definitely see myself hitting the open road and pumping these guys as loud as I can.
[youtube]http://www.youtube.com/watch?v=DBzGt8wuLC8[/youtube]
Okay, so Helmet was next.  I remember getting 'In the Meantime' on a family trip out to Lawrence, Kansas and listening it on repeat for the rest of the day.  Yeah, they fell off pretty hard toward the late 90's but they are back.  I just missed them at SXSW but now at Dia De Los Toadies, my mission is complete.  Helmet masters the tactic of inserting quiet at the right moments.  Most of their songs that sound great do it masterfully.  Like that title track, "In The Meantime."  Oh there was so much more so you'll have to check the YouTube page to listen to it all.  We also had the first appearance of a mosh pit.
[youtube]http://www.youtube.com/watch?v=faHWbnPXUd4[/youtube]
Next up was Mariachi El Bronx.  These guys always put on a good show and Saturday was no different.  What was cool was the fact that a mariachi band was the meat between the bread of a rock and roll sandwich.  The sun was down, it was starting to cool down and the sounds Mariachi El Bronx provided made a tasty cocktail of good times.  Heck even the Toadies came out and made them do just one more song at the end.  Great stuff.
[youtube]http://www.youtube.com/watch?v=FSmjEPCadRY[/youtube]
Speaking of the Toadies, they have a new album out so instead of last year, they are actually supporting new material.  I nabbed a couple and really enjoyed 'Animals'.  To be honest, I didn't stay for the whole set, but got about half of it.  Hey, it was a long day and I've enjoyed the Toadies so much already.  I was lucky enough to get some classics as well.  In all reality, I'm lucky enough to be able to hit up a festival like Dia De Los Toadies where I can float a river and then hop off to enjoy a great mix of classic and current Texas rock music.